This year, for the first time ever, Canterra Design + Build is a finalist in not one but three GOHBA Housing Design Awards categories, with a total of four nominated entries, each outlined below. We're thrilled to be sharing the stage with so many of Ottawa's most talented architects, designers, and builders.
Three Canterra-designed projects – including two with Roof Over Head Developments – are finalists in three categories. We're even competing against ourselves in the Custom Home 3,501 sq./ ft. and larger category. Each project is unique, imaginative, and holds a special place in the Canterra portfolio of projects.
Custom Home (3,501 sq. ft. or more)
Meadowshire Way
The design inspired us to create a custom home that challenges standards. Building on the idea that form follows function, the focus was on layout and maximizing space, while keeping it simple in form. Entry area ceilings soar to 14 feet, flowing into the formal Dining Room and Great Room. Throughout the remainder of the home are 10 foot ceilings, with massive windows providing ample natural light. With entertaining in mind, this home features an open floor plan, with an ultra modern kitchen and an eating area that opens up to a covered lanai extending to a lower patio, with an outdoor two-sided gas fireplace. The home highlights contemporary styling and sleek finishes, incorporating the homeowner's personal style in order to create a truly distinctive space within a country setting.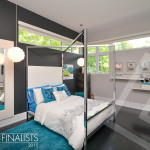 Custom Home (3,501 sq. ft. or more)
Longhearth Way – with Roof Over Head Developments
This custom home was built with entertaining in mind for a young couple and their 3 daughters. The home features an open concept, contemporary styling, and sleek modern finishes inside and out, great windows which provide ample natural lighting, distinct features like open riser stairwell, glass guardrails, 2 storey volume spaces, and an ultra-modern kitchen design. The Master bedroom and its spacious ensuite are situated on the main floor, with access to the outdoor living space, hot tub, and pool area, creating a resort-like atmosphere. The children retreat to three additional bedrooms on the second floor, each equipped with its own private ensuite. Overlooking the main foyer is a private children's loft area for lounging or entertaining friends, creating privacy for children and parents. The backyard offers a gorgeous outdoor covered Lanai, an outdoor kitchen, hot tub, and furnished lounge area.

Any Room in the House
Meadowshire Way- Master Bedroom
The vision for this Master Bedroom was to combine a contemporary layout and sleek modern finishes with the homeowners' personal style to create a warm and distinctive space. 10 foot ceilings are combined with an open concept floor plan which creatively connects the bedroom with the ensuite, eliminating doors & walls. Floor transitions and a free-standing partition conceal the soaker tub and shower, while the toilet is enclosed in its own room. A retreat area with massive windows floods the space with natural light and provides an unobstructed view of the rear wooded grounds. "Clerestory" windows in the ensuite are set high in the walls to provide light and ventilation, while preserving privacy. Adjacent to the bedroom are "His" & "Hers" walk-in closets, with a distinctively designed "Hers" closet which features a "walk-up" area that utilizes the unused truss space above the entry to increase the closet space and maximize the useable area. This unique Master bedroom provides an area like no other where the homeowner can relax and unwind in their own private retreat.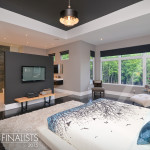 Custom Urban Home Multi-unit (2-6 units)
Hampton Park/Westboro Semi Detached Dwellings– with Roof Over Head Developments
Compact living with large scale urban feel is the cornerstone of these gorgeous contemporary semi-detached dwellings. Situated on a small corner lot of only 61' x 66' ft. overlooking Hampton Park, the space required greater setbacks and a more challenging design but provided a perfect opportunity to be more creative with the design while also demonstrating a good use of land and effective infill development. By taking advantage of two street fronts, one entrance was placed on Buell St. and the other on Parkview Rd., giving the illusion of a single family dwelling. As you approach the building, the corner creates a focal point with a wrap-around roof canopy, separating floor to ceiling 2 storey corner windows. The low pitched roof with larger fascias' makes the sloped roof appear flat. This coupled with box bay bump-outs, with 3-sided square bay windows, and tastefully selected exterior finishes accentuate the homes' sense of movement and unique design elements.
Working on each of these unique projects has been a source of pride for our team. The Canterra team will be on hand when the Awards are presented at the 32nd Annual Housing Design Awards Gala on October 3rd…and we can't wait to see what happens next!